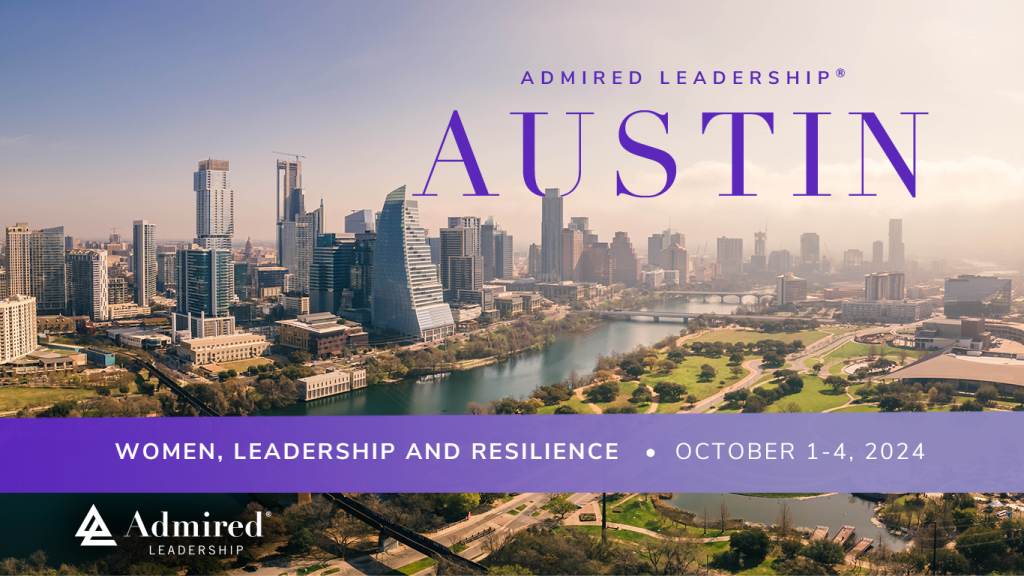 Admired Leadership Institute in Austin: Women, Leadership and Resilience
Experience three transformative days at The Admired Leadership Institute at Miraval in Austin, where leadership learning intertwines with a resilient mindset. This meticulously crafted program guarantees an unforgettable Admired Leadership® experience that will leave participants inspired and energized. It is designed to foster meaningful dialogue among a community of like-minded women leaders, cultivating lasting connections while accelerating career growth.
Are you a female leader seeking to elevate your impact and unlock your full potential? The Admired Leadership Institute is tailor-made for individuals who currently hold significant responsibilities and possess untapped potential to do and achieve more. Emphasizing the power of resilience, this program is ideally suited for leaders with an interest in developing mindset and behaviors for the long game. The program is also ideal for leaders who could benefit from a reset and a renewed sense of energy.
Leticia Hartmann, MA, PCC As a Managing Director in the
CRA | Admired Leadership's practice, Leticia is a seasoned executive coach with expertise in advising diverse global teams across a wide range of industries. Her clients include leaders and C-suite executives in organizations such as Dell Technologies, Morgan Stanley, BlackRock, The Carlyle Group, Ardian, Microsoft, Oppenheimer, Oracle and Meta. Leticia is a guest lecturer and facilitator on Admired Leadership®, Leadership Style, and Leading Virtually. She is a Professional Certified Coach (PCC) and holds a Professional Coach Certification from the University of Miami. She has a graduate degree in International Business and Marketing from Florida International University and completed an Executive Program in Leadership at Stanford Graduate School of
Business.
LIANA KNUDSEN, MA, LPC, CPCC, ACC Liana is a business leader and executive coach who leads with authenticity and clarity, helping her clients design talent and organizational solutions to solve complex business challenges. Some of her clients include AMD, NI, and Marmon Holdings. Liana has deep experience and expertise in organizational development, learning and development, and talent management for high-growth global organizations in dynamic industries. Liana's greatest passion is helping high-potential talent accelerate their development. Her behavioral and goal-oriented approach enables her to give actionable feedback, direction and recommendations that empower her clients to reach the next level. Liana earned a Bachelor's degree in Business and Sociology from Trinity University and a Master's degree in Professional Counseling from Texas State University.
EMMA MUFRAGGI, MA Emma hones her passion for coaching through elite sport. She thrives in high paced environments, and coaches CEOs, leaders. and teams with a unique approach, by championing each one to think like an athlete and develop winning routines. She has worked with a number of game-changers, including the leading Coach to 11 number 1 ranked ATP/WTA Tennis plyers. Her clients span the globe across the US, Europe, and APAC and include, YPO, Morgan Stanley, Davidson Kempner, Dell, Insight, Tory Burch, Ralph Lauren, and Caesars. Anglo-American, Emma speaks fluent English, French, and Spanish. She specializes in high performance, resilience and leading multicultural teams and was a guest lecturer on High Performance at HEC (No. 1 ranked Business School, in Paris).
The core sessions consist of distinct learning modules interwoven with group activities designed to encourage reflection and dialogue. A sampling of modules includes:
Why Should Anyone Follow You?
Inspiring Others Around You
Projecting Senior Leadership Credibility 
Making the Time to Lead
Building Strategic Relationships
Making Great Decisions Every Day
Leading Your Leader for Team Success
Alongside our working sessions, participants can immerse in a nature hike, yoga classes, morning meditation, stress solution skills, mindfulness activities, and strength training. These experiences not only promote personal well-being but also provide opportunities for individuals to connect, share ideas, and build meaningful relationships. Join us for a rejuvenating journey of leadership, discovery, and growth.
Miraval is a top-rated luxury wellness resort with an immersive and experiential approach to resilience. It is intentionally quiet and peaceful so that participants can truly focus to learn and develop. While participants arrange for personal travel into Austin International Airport, we work with Miraval to provide transportation from the Austin airport to Miraval. At the conclusion of the symposium, participants are driven back to the Austin International Airport in time to make connections to all points.
The cost to participate is $8,500 and it includes one year of Admired Leadership Digital. If you're an ALD subscriber, the cost is $7,500. To learn more about this event you can reach out to a member of our team here. Ready to sign up? Leave your information using the form below and we will reach out with agenda details and billing information. 
Contact us for
additional information:
Admired Leadership Institute provides participants with a unique and memorable environment to explore how to be a better leader. It is designed to create a rich dialogue among peer-like leaders who can share organizational challenges, exchange innovative ideas, and better themselves.