It's time for leadership wisdom that works
Master Behaviors of Exceptional Leaders
Serious Leaders Deserve Elite Insights
The best leaders are always on the hunt. Never satisfied. They know there's always a gap between the leader they are and the leader they could be. That gap is where the real work happens. 
The world is in profound need of leaders like this. Leaders truly committed to making people and situations better.
Admired Leadership reveals the habits, routines, and behaviors of the very best leaders.
Here's what leaders are missing:


Clear Steps
to Excellence
Deep Dialogue
& Connection
Frameworks and Principles Are Not Enough
Experienced leaders can't imagine there is wisdom out there that they haven't already heard. And they're tired of the regular claptrap:
Conflicting frameworks
Values jargon
Psychological gymnastics
Tips, hacks, and cliches
Pompous gurus
Admired Leadership Is the
Answer for You and Your Team
Over the last 30 years, we've studied more than 12,000 leaders to uncover the foundational routines and behaviors of leadership excellence. These insights were shared exclusively with elite private clients. No books. No videos. No public talks. But now, anyone can become part of Admired Leadership
— a community
committed to changing the global conversation about leadership.
We believe leadership is defined by what you DO.
Video content library of 100+ behaviors
Monthly study groups
Private Q&A podcast
Weekly book summaries
Subscriber-only live events
Special gifting privileges
Everyone who joins will have a personal Admired Leadership liaison who will facilitate bespoke onboarding. 
Additionally, we're always happy to talk with those who want private coaching, custom team dialogues, or special keynotes and conference options.
Your Simple Path to Admired Leadership®
Sign up for our daily Field Notes email. Powerful and practical leadership wisdom. Always free.
Get our Foundational Videos:
An Introduction to Admired Leadership. Five videos cover our foundational principles (plus one of our Admired Leadership Behaviors).
Join the Admired Leadership community for full access to the most powerful leadership content available anywhere.
When you sign up for Field Notes you will get instant access to our special guide:
Fanness: An Idea That Will Change the Way You Motivate and Inspire Others
Explore More Than 100 Specific Behaviors of the Very Best Leaders
The Admired Leadership audio / video content library offers digital access to scores of key behaviors in 10 important categories covering the areas of greatest challenge for all leaders:
Making People Better Through Feedback

Why Should Anyone Follow You?

The Secret of Inspiring Others

Elevating Performance and Holding Others Accountable

What the Best Leaders Know about Relationships
Making Great Decisions
Propelling Change
Making the Time to Lead
Forging a Team of Leaders
Making Yourself a Better Leader Everyday
10 modules. 10 behaviors. Each behavior explained in a video about 10 minutes or less.
Each video also includes everything you need to start making real changes in the way you lead:
A Behavior Map
Study Questions
Examples
Exercises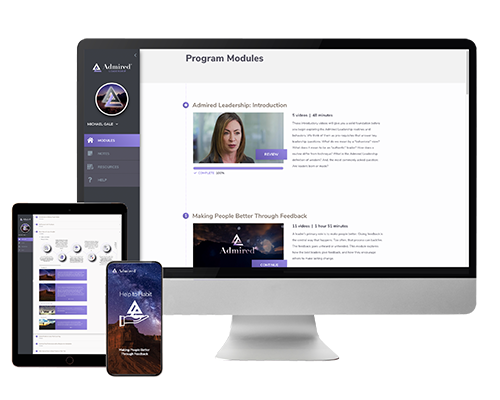 Watch Our Five Foundational Videos: An Introduction to Admired Leadership
The content in these Foundational Videos alone
could transform your understanding of leadership.

In Search of Admired Leadership is a more detailed look at how Admired Leadership came to be, and how the hunt for leadership behaviors over the last 30 years came to transform so many who have embraced this path.
Better Leaders Make People Better​
More than ever we need better leaders. Does anyone think there are too many great leaders out there? Didn't think so.
Great leaders are rare. Find out why Admired Leadership quietly became the powerful foundation for so many top leaders around the world.
It's time to widen the conversation.
To include leaders like you.