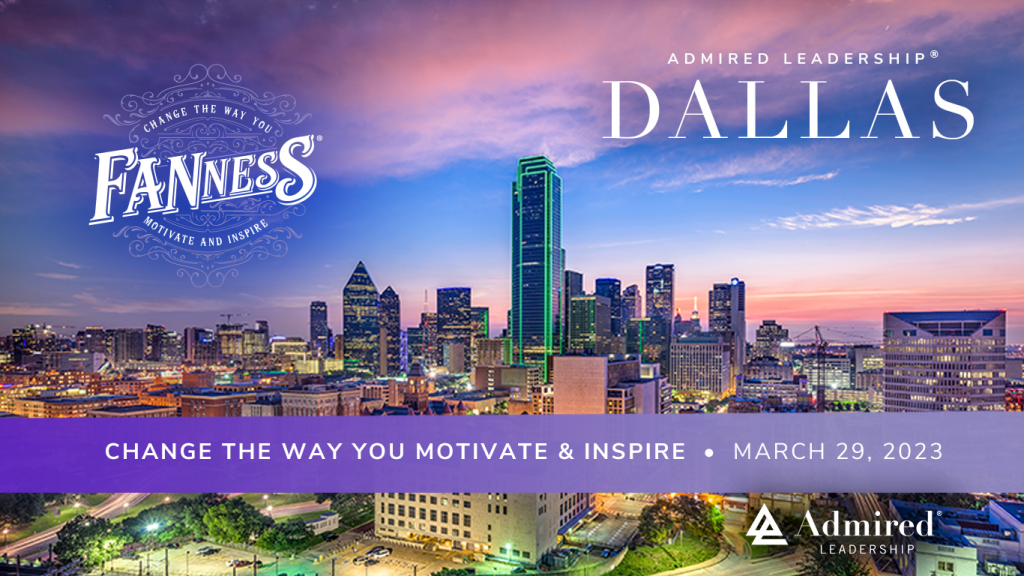 Exploring Admired Leadership: Dallas
Fanness® – Learn how the best leaders motivate and inspire others.
Register now for a special in-person event hosted by Admired Leadership. This event is complimentary and will take place at the Dallas Regional Chamber of Commerce on Wednesday, March 29 from 9:00 – 10:30am CST.
The foundation of Admired Leadership is built on 35 years of studying the world's best leaders and uncovering the behaviors and routines that lead to excellence. The concept of Fanness® is the foundation of what it means to be an Admired Leader who has developed the behaviors necessary to both motivate and inspire.
We will be hosting leaders across the DFW area who are interested in transforming the ways they motivate and inspire their teams.

If you connect with our primary core value, "Leadership is about what you do… Not who you are or what you think" – you should consider attending this Admired Leadership event.
Session Topic: Fanness®
Featuring Dr. Randall Stutman
Agenda
9:00am                 Arrivals and Refreshments 
9:10am                 Welcome and Introductions 
9:15am                 What is Admired Leadership? An Introduction to Practical Leadership Behaviors
9:20am                 Content Session: Fanness® with Dr. Randall Stutman (facilitated group discussion)
10:15am               Admired Leadership Digital® Video Access Opportunity (one per attendee)
10:30am               Close 
Dallas, Texas
Wednesday, March 29, 2023
The event will take place at the Dallas Regional Chamber of Commerce
Dallas Regional Chamber
500 N Akard Street, Suite 2600
Dallas, TX 75201
If you have any questions about this event, please reach out to a member of our team. 
This is a complimentary event with limited space available. Register Here: